Off-Ice is the key to a skater's success
Work on your balance, strength, endurance, and flexibility and also practice on ice movements including jumps and dances. Off-Ice exercises help to enhance a skater's progress and also prevent injuries by teaching proper warm-up techniques.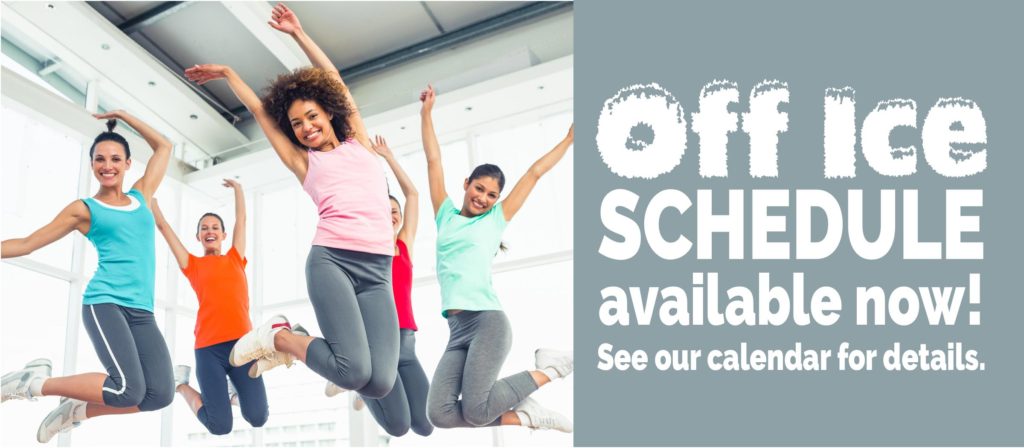 ---
Do not miss out on the fabulous opportunity!
Classes are available at no extra charge except for the Ballet class.
Attend as many classes as you can handle!
---
TUESDAY  |  6:00 – 6:30 pm  |  Juniors Flexibility Class
---
---
THURSDAY
5:40 – 6:40 pm  | Advanced, Competitive and Senior

6:40 – 7:10 pm  |  Junior
---
SATURDAY
9:45 – 10:45am  |  Advanced, Competitive and Senior

8:15 – 9:15 am  |  Intermediates

12:10 – 12:40 pm  |  Juniors Jump and Spin Class
---
SUNDAY PILATES! 
We have added an additional off ice class to our schedule!
Senior/Advanced/Competitive: Friday 5:45-6:40 
Junior: Sunday 12:00-12:55 pm
All class will be held in the off ice room, on the 3rd floor of the Magna Center.
There is no charge for this class!
---
Jennifer Barta
As a Body Harmonics certified Pilates instructor for over 14 years, Jennifer strives to provide her clients with a total body workout that focuses on strength, balance, flexibility and endurance.
Jennifer ensures movements are done with proper alignment while focusing on posture and the importance of activating the core abdominal muscles. This will ensure that all clients can enhance their performance and prevent injury. 
Jennifer will also incorporate the use of many different props like gliders, bands, stability balls and weights to offer variety and challenges to each class.
Jennifer's love for movement stemmed early in her life through skating and dancing!  After many years of competition, she discovered Pilates and loved the graceful artistry, yet challenging nature of movement.
Jennifer looks forward to sharing her passion with you - wellness through movement is the Pilates way!